2nd "Play Together Suzuki" Concert in Elda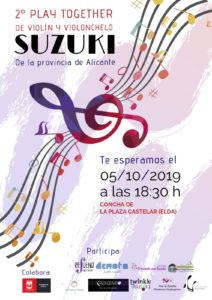 Invitation
Next Saturday, 5th of October 2019 at 18.30 h
Suzuki violin pupils from Mar de Estrellas Montessori Kindergarten will participate in a concert open to the public
at Concha de la Plaza Castelar in Elda.
The event is called
"2nd Play Together Suzuki" (de violín y violonchelo) de la Provincia de Alicante.
More than 100 Suzuki pupils from all over the province of Alicante will be gathering all day, enjoying lessons and preparing for a joint concert in the evening.
At Mar de Estrellas Montessori Kindergarten children from the age of 3 years can join our Suzuki project, which gives them the opportunity to benefit from 3 weekly individual lessons during the Montessori work cycle in the morning.
Our fabulous Suzuki teacher Cristina (Level 3 Spanish Suzuki Federation) forms part of our teaching staff and spends 10 hours every week in our school to inspire our pupils of different ages (3-6 yrs.).
We also offer our parents several Suzuki violin classes each month to learn the violin, in order to be able to accompany their children's musical journey.
Puedes compartir esta entrada usando tus redes sociales: